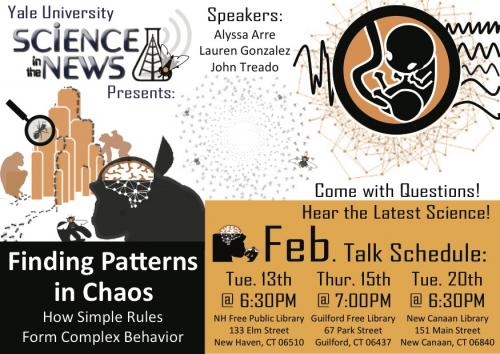 Have you ever been amazed by the patterns you see in flocking birds above, or in buzzing ant colonies below? Ever been stunned by how humans grow from one tiny cell to the walking, talking, feeling beings we are? When were you last left wondering: how is something that seems so complicated even possible?  As it turns out, the impossible can often be broken into small, bite-sized pieces that follow a few simple rules and cause surprising results.
Join us as three Yale scientists discuss a concept called "emergence," which can explain a lot of what may seem too difficult to grasp at first glance. We will be learning how to look for patterns in the world around us, how basic interactions construct the very fibers of our beings, and how simple rules can form unexpectedly complex communities.
We'd like to thank you for coming to Science in the News, and hope you enjoy exploring the complexity that surrounds us!
 
Upcoming Schedule:
Sunday, Feb 4th @ 3PM – Dixwell Community Learning Center (101 Ashmun Street, New Haven, CT 06511)
Tuesday, Feb 13th @ 6:30PM – New Haven Free Public Library (133 Elm St, New Haven, CT 06510)
Thursday, Feb 15th @ 7PM – Guilford Free Library (67 Park St, Guilford, CT 06437)
Tuesday, Feb 20th @ 6:30PM – New Canaan Library (151 Main St, New Canaan, CT 06840)