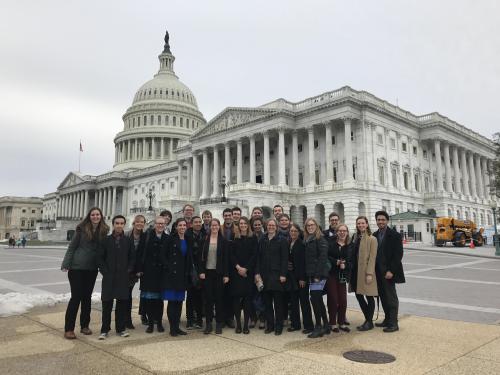 After narrowly avoiding a blizzard, we started our visit on Thursday in the Office of Pesticide Programs (OPP) at the Environmental Protection Agency (EPA). We heard about what it's like to work in a large government agency and learned how scientists provide risk assessments for pesticides seeking approval. One of our panelists pointed to the Student Career Experience Program as a way to transition from academia into government.  
Then, we headed to the Pentagon to hear from the Office of Cost Assessment and Program Evaluation (CAPE) at the Department of Defense (DOD). We learned about a couple of fellowships available to PhD scientists, including the Christine Mirzayan Fellowship at the National Academies of Science, and the Presidential Management Fellowship. Here, we learned about what it's like to work in operations: providing analysis and evaluation of programs to help leadership make informed decisions.
After a quick Metro ride, we arrived at the Smithsonian Museum of Natural History. We talked with a panel of scientists working throughout the Smithsonian on research and education.  The Smithsonian provides a lot of fellowship opportunities, including the Smithson Fellowship, which allows postdoctoral researchers to learn more about policy around the Smithsonian and Washington DC. 
Before we disbanded for the evening, we met up with local alumni at a networking event at the prestigious National Press Club, making connections with Yale graduates in a wide range of fields. 
Bright and early Friday morning, we headed to the American Association of University Women (AAUW) to hear about work in a nonprofit advocacy organization. We heard about the history of the organization, how we can get involved, and how AAUW can help us finish our dissertations or fund postdoctoral work. We also had a chance to hear about some of the great programs at AAUW and how they're advocating for women. 
Next, we headed over to another non-profit, the American Association for the Advancement of Science (AAAS). Here, we heard from people working all over the largest general scientific society, from Science Magazine to Government Relations. We also learned about two fellowship opportunities through AAAS: the Science and Technology Policy Fellowship, which places scientists in all three branches of government to learn about and contribute to policymaking, and the Mass Media Fellowship, which places scientists in media outlets around the country for 10 weeks of real-world science journalism experience.  
Finally, we hit up Capitol Hill to visit a scientist working on the Senate Health, Education, Labor and Pensions (HELP) Committee. She told us about life as a Congressional staffer, and how our PhD training has prepared us to read and consolidate large amounts of information.
Thanks to the following sponsors for making our trip possible: Yale Predoctoral Training Program in Biophysics, Yale Immunobiology Interdisciplinary Training Program, Yale Combined Program in the Biological and Biomedical Sciences, Yale School of Engineering and Applied Science, Yale Office of Career Strategy 
Special shout-out and thanks to the Career Trek planning committee!
Carly Cox, Michael Parker, Amanda Pellowe, and Savannah Thais
By Sarah Smaga